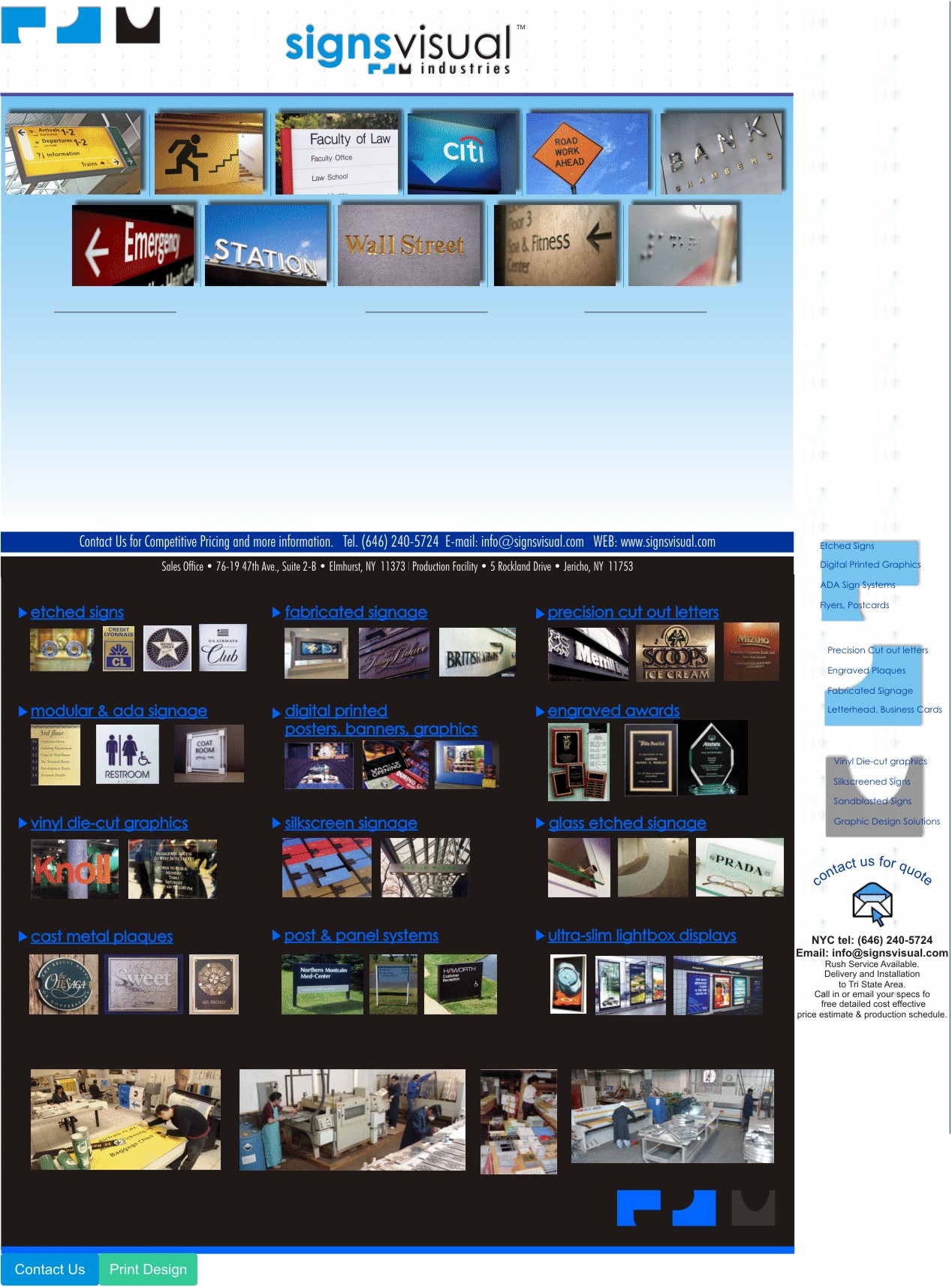 Signs Visual Industries, Inc. - Signs New York
Architectural Interior and Exterior Signs and Visual Systems
Manufactured signs are an integral part of the global business structure. We communicate through visual displays, the very essence of our daily operations, functions, and style.
At Signs Visual Industries, Inc., we are committed to conveying your visual communication interfaces to their optimum level of readability, performance, reachability and graphic appeal.
With over 15 years of experience in the industry, our team of experts will customize and craft the highest quality sign solutions to meet your requirements and needs in a cost-effective, timely nature. With our main sign design sales office in New York City and manufacturing plant in Queens, NY, we utilize industry standard, state of the art computerized equipment and materials to form your signs and visual masterpieces. For signs new york,
state of the art sign design equipment, materials and 6,000 sq. ft. production facility
Signs Visual Industries, Inc. est. 1991
info@signsvisual.com | NYC tel: 646.240.5724 | fax: 646.530.8752
Vinyl Diecut Graphics and Signs
Precision Cut-out Letters and logos
P.O.P and Advertising Signage
Engraved Plaques (Laser & Rotary)
Subsurface silkscreen signage
A.D.A / Modular Sign Systems
Construction Project Signs
Office Directory and Safety Signs
Hospitals / Medical Office
Contractor / Construction
New York City Affiliations
Plaques Signs New York within the area of ex
With over 15 years of signage and graphics experience, Signs Visual Industries, Inc. of New York is your reliable manufacturer for architectural signage. Having gained regional appeal, our innovative and precision crafted signs can be seen throughout New York and the neighboring eastern coast. With a long standing commitment to the research and development of the latest in manufacturing technology and a staff of highly trained and dedicated craftsmen, Signs Visual has set and maintained a high standard of excellence within the Signage industry.
Our primary objective is to provide you with the resources, expertise and design flexibility to meet all your signage and print design visual needs. Clientele include: Dubai Tourist Board, Port Authority of New York, US Airways, JetBlue Airways, Emirates Airlines, Chase Manhattan, Gemini Construction, Nickelodeon, Queens College of New York, William Patterson University, Bronx Lebanon Hospital, Con Edison, Padded Wagon, to name a few.